Community Engagement
Join the Conversation: Engage with Your Town Leaders in Our Community Conversation Series!
We're thrilled to announce the launch of our exciting new initiative – Community Conversations: Connecting with Carefree – aimed at bringing our community closer together by facilitating open and meaningful dialogues between our town's leadership and its valued residents. This series is a unique opportunity for you to connect directly with our Mayor, Town Council members, and dedicated town staff.
What is the Community Conversation Series? Our Community Conversation Series is designed to foster understanding, collaboration, and transparency within our town. We recognize that an informed and engaged community is the backbone of a thriving town, and we're committed to ensuring your voice is heard.
Engaging Topics and Meaningful Discussions We'll be covering a wide range of topics that matter most to you. From public services and infrastructure to community services and programs, public safety, future planning, development, and communication strategies, these discussions will give you insights into our town's operations and policies.
Connect with Your Leaders Our esteemed Mayor, dedicated members of the Town Council, and experts from various departments will be actively participating in these conversations. This is your chance to ask questions, share your suggestions and concerns, and gain a deeper understanding of the decisions that shape our town's future.
Why Participate?
Informed Citizens: Stay updated on town activities, projects, and future plans.
Voice Your Opinions: Your input matters – help shape the direction of our town.
Open Dialogue: Bridge the gap between residents and town leadership.
Community Engagement: Be an active part of the governance process.
How to Get Involved Participating in the Community Conversation Series is easy. Simply check our Facebook page for dates, topics, and details.
Mark Your Calendar Our first session is scheduled for September 8, from 9:00 AM - 11:00 AM at the Carefree Farmers Market located at Sanderson Pavilion. Don't miss this opportunity to connect, engage, and collaborate with your town's leaders and fellow residents.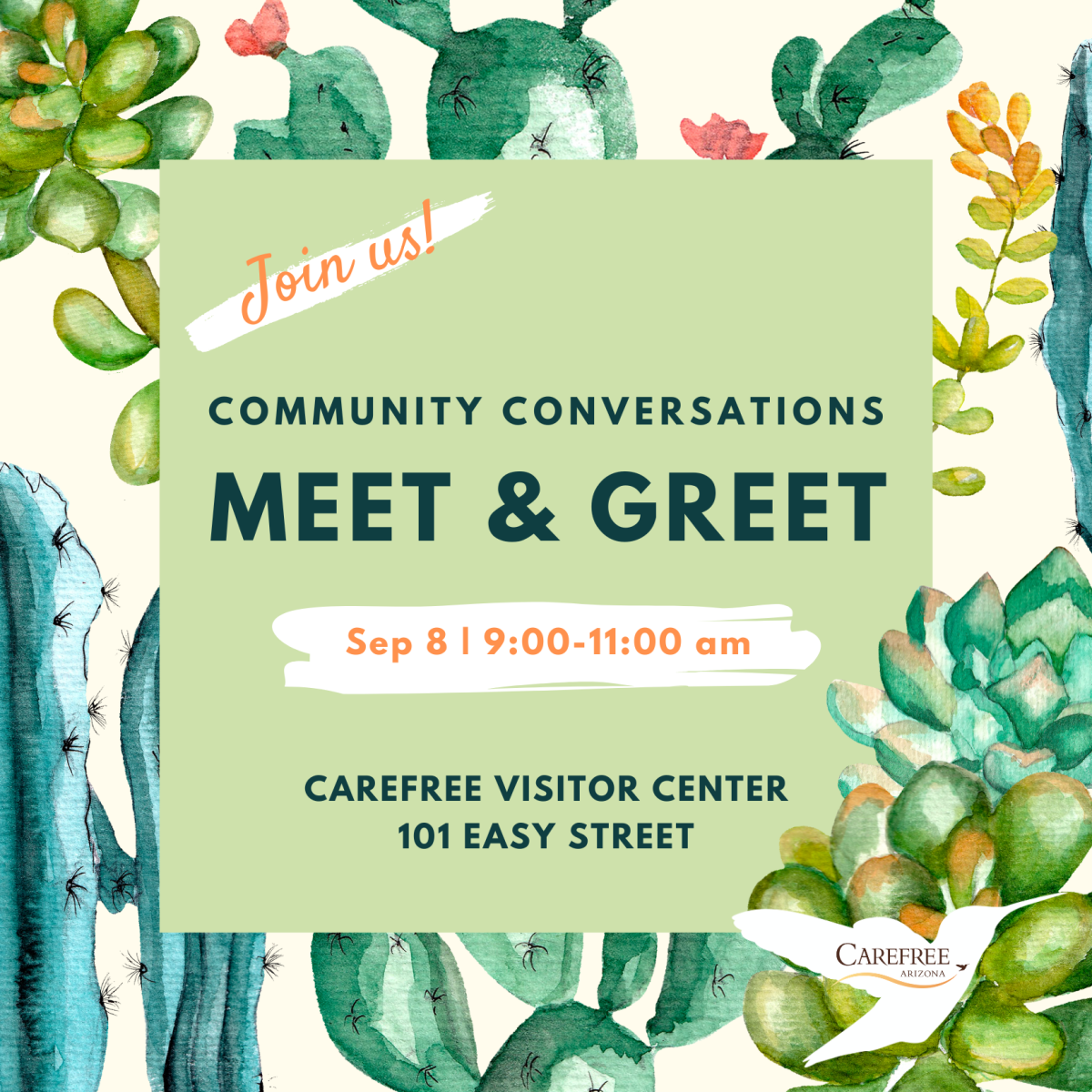 ---
Traffic Calming Policy Community Workshops
We are pleased to invite you to participate in two upcoming community workshops that will play a crucial role in shaping the future of our town's roadways and enhancing the safety and livability of our community.
Workshop details:
September 14 and September 28 from 5:00 PM to 7:00 PM
Carefree Town Council Chambers
During these workshops, we will discuss and collaborate on the implementation of the newly proposed Municipal Traffic Calming Policy. This policy aims to address citizen concerns regarding traffic volumes, excessive speeds, and safety issues on our roadways.
Your participation is vital as we seek to create a comprehensive plan that reflects the needs and preferences of our community. By working together, we can develop effective traffic calming measures that improve non-motorist safety, mobility, and comfort while fostering a sense of community in Carefree. We hope to see you there!